Rocker, Chris Cornell dead at age 52
Chris Cornell, lead singer of Soundgarden and Audioslave, hanged himself, the Wayne County (Michigan) Medical Examiner's Office announced Thursday in a statement.
The cause of death has been determined as suicide by hanging, the statement said, adding that a "full autopsy report has not yet been completed."
[Original story, last updated 12:28 p.m. ET]
Chris Cornell, lead singer of Soundgarden and Audioslave, died Wednesday night after performing in Detroit, his representative told CNN.
Cornell's death, at age 52, is being investigated as a "possible suicide," a spokesman for the Detroit Police Department told CNN.
A family friend called 911 around midnight Thursday after he went to check on Cornell and found the musician "unresponsive" on the bathroom floor at the MGM Grand hotel, spokesman Michael Woody said. Emergency medical personnel arrived, and Cornell was pronounced dead at the scene, he said.
"We are moving in the direction of a possible suicide but we are waiting on the Medical Examiner's Office to provide their report," Woody said.
Cornell was in Detroit performing with Soundgarden on a US tour that kicked off last month. His passing was "sudden and unexpected," his representative, Brian Bumbery, said in a statement to CNN.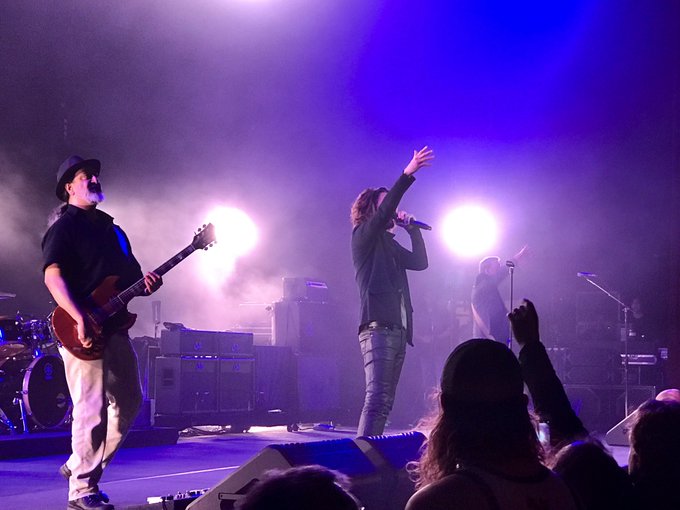 "His wife Vicky and family were shocked to learn of his sudden and unexpected passing, and they will be working closely with the medical examiner to determine the cause," the statement read. "They would like to thank his fans for their continuous love and loyalty and ask that their privacy be respected at this time."
The Grammy-winning rocker had performed Wednesday night at the Fox Theatre in Detroit. He ended his performance with a cover of Led Zeppelin's "In My Time of Dying."
"Full set with an encore. Nothing odd. Outstanding performance," Bill Lowe of Port Clinton, Ohio, said, describing the show in a text message to CNN.
Cornell began his career in the Seattle rock scene forming the band Soundgarden in 1984, which was influential in the 1990s grunge movement. The group disbanded in 1997 and released a greatest hits compilation the same year.
In 2001, Cornell joined with three former members of Rage Against the Machine to form Audioslave. Their most successful single, "Like a Stone" released in 2003.
Cornell also sang the theme song to the James Bond movie "Casino Royale."
Soundgarden came back on stage in 2010 for festival performances and had recently started touring again. The band tweeted Wednesday night a quote from Cornell: "What I look forward to the most…is the camaraderie. It's what we missed when we weren't a band."